Division of Property and Debt on Divorce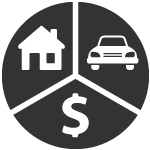 Under California law, the court in a marital dissolution proceeding is required to determine (characterize) the parties' properties as community or separate and then divide the parties' community property equally between them and confirm to each party his or her separate property. However, the court does not have to divide each community asset equally between the parties. It can equalize the division of community property by awarding properties of equal values to each party or by requiring the party who receives more valuable properties to make an equalizing payment to the other.
The court has the same obligation to characterize debt as community or separate and to divide the community debt between the parties. Generally, a party who is awarded a property that carries debt, such as the house or a spouse's business, will take any debt associated with the property, although this is not an absolute rule. There are also special rules for the division of student loan debt.
Where the amount of community debt exceeds the value of the community property, the court need not make an equal division of the debt and can award it to the party most likely to be able to pay it. If the party ordered to pay the debt is also subject to an order to pay spousal support, the court can order that some or all of the support will consist of the supporting party's payment of the supported spouse's share of the community debt.
California law does not allow the division of property to be affected by the conduct of either party in bringing an end to the marriage. However, the court can order one party to take on a liability incurred during marriage that arose out of conduct that was against the interest of the community, such as having an affair or certain types of crimes and torts. Similarly, the court can order a spouse who misappropriates community property or uses it to benefit their separate property to reimburse the community.
Of course, the parties to a divorce can agree to divide their property as part of the settlement of the case, rather than having a judge divide their property after a trial.
Di Maria & Cone
628 Cuesta Drive
Los Altos, CA 94024
Phone: (650) 321-4460
Fax: (650) 321-0632
Di Maria & Cone, located in Los Altos, represents clients throughout California, primarily on the San Francisco Peninsula and in Silicon Valley — in communities such as Atherton, Cupertino, Los Altos, Menlo Park, Mountain View, Palo Alto, Portola Valley, Redwood City, San Jose, Sunnyvale, and Woodside.