Community Property vs. Separate Property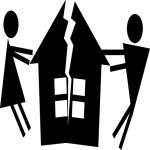 A major part of most divorces is the characterization, valuation, and division of the parties' property and debt. California law establishes two broad categories of property applicable to spouses, community property and separate property. The process of determining what property is community and what property is separate is called "characterization" of the property. Under California law, if the parties cannot agree, the court is required to characterize the parties' property and then to value and divide the parties' community property equally between them and confirm to each party his or her separate property. The court must also characterize and divide the debt, but need not divide it equally where debt exceeds the assets. There are also special rules for the division of student loan debt.
Many of the rules regarding characterization and division of the parties' properties and debt can be varied by an agreement made before marriage (a prenuptial agreement), after marriage (a post-nuptial agreement) or after separation (a separation or marital settlement agreement). If there is no agreement, the court will then undertake that task at a trial.
Community Property Defined
California law provides that all property acquired by a person during marriage while living in California is community property, unless it can be shown to be fully or partially separate property. For this purpose, "during marriage" means from the date of marriage until the date of separation. Community property also includes income from community property, such as rent, interest and dividends, as well as property acquired with community property. Each spouse has an equal interest in the parties' community property. Thus, the fact that one spouse makes much more than the other spouse does not give the high earner any more or different interest in the community property than the low earner spouse.
Note that a spouse may receive funds or property after separation that are community because the right to the funds or property arose before separation; a similar rule applies to funds or property received after marriage where the spouse's right to the money or property arose before marriage. An example would be where a spouse is paid after separation for work under a contract that was completed before separation.
Each spouse may also have separate property, which consists of all property owned by the spouse before marriage, all property acquired by the spouse during marriage by gift or inheritance, and all property acquired after the date of separation (unless acquired with community property) as well as the income from such separate property.
Debt and other legal obligations are also classified as community where they were incurred during marriage or are secured by community property. They are classified as separate where they were incurred before marriage, are secured by separate property or are solely for the benefit of separate property. Additionally, an obligation may be classified as separate where it has no benefit to the community, such as debt incurred to pay for an extra-marital affair or liability for certain crimes and torts that do not benefit the community.
However, where a spouse spends significant effort during marriage to improve, manage or invest his or her separate property, the community may acquire an interest in the property, which is discussed more fully under our page explaining commingled assets.
Representing Your Best Interests in Property Division
Using our detailed knowledge and understanding of property law, we can analyze the character of property and determine the best approach to establishing a favorable characterization of the property in settlement negotiations and in court. Where necessary, we will also arrange for appraisal of property. We will also work with you to determine a division of the property in your best interests.
We are experienced with the types of property law issues that arise in the Silicon Valley area, including those concerning stock options and employment and retirement benefits, intellectual property, and contributions of both community and separate property to acquire a home or investment property. Each case is prepared thoughtfully and thoroughly to ensure we have all the information to prepare for settlement negotiations. If your case cannot be resolved through negotiation, we are ready to aggressively advocate on your behalf in court.
Our goal at Di Maria & Cone is to form a strong relationship with each client. In the casual, comfortable atmosphere of our office, we will sit down with you to fully understand your concerns and offer sound legal advice. We will keep you informed and return phone calls as soon as possible.
Contact our office at (650) 321-4460 to schedule a free phone or in office consultation.
More About Property Division:
Di Maria & Cone
628 Cuesta Drive
Los Altos, CA 94024
Phone: (650) 321-4460
Fax: (650) 321-0632
Di Maria & Cone, located in Los Altos, represents clients throughout California, primarily on the San Francisco Peninsula and in Silicon Valley — in communities such as Atherton, Cupertino, Los Altos, Menlo Park, Mountain View, Palo Alto, Portola Valley, Redwood City, San Jose, Sunnyvale, and Woodside.