How Does a Prenuptial Agreement Protect You?
When it comes to planning a wedding, there are plenty of details to finalize before the big day arrives. You have to decide on the perfect venue for your "I do's". You have to arrange what food your guests will be eating, who will be responsible for taking photos, what type of music will be playing, and what your theme and decor will be. The list of what needs to be done to achieve the wedding of your dreams goes on and on.
One thing that many couples neglect to do when planning their nuptials is drafting a comprehensive and binding prenuptial agreement. After all, at the very least, it's a conversation many couples dread or even avoid having; many people find it hard to discuss financial issues! However, since many marital arguments concern finances, it is strongly recommended that couples reach agreements beforehand on financial goals and needs. Even the happiest couples should work with an attorney to put a prenuptial agreement in place before walking down the aisle to best protect themselves.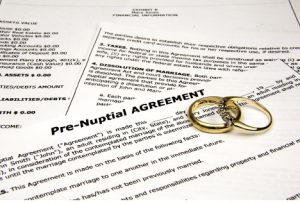 Before you go about drafting a prenuptial agreement with an experienced attorney, it's important to understand what exactly a prenuptial agreement is. A premarital agreement, or a prenup, is a written contract created by two people before a marriage occurs. It will not only carefully outline what each person owns and any debts they have incurred, but a prenup will also specify what each person's property rights will be if the marriage were to end. It can also address the party's rights and obligations to pay spousal support if there is a divorce.
Most commonly, a prenuptial agreement is in place for a couple if one (or both) parties have substantial assets prior to the union, is an owner of interest for the company in which they work, or, if it is anticipated the income circumstances will change for one or both parties during the marriage itself. Prenups are also recommended for parents who are getting remarried; parents who are remarrying after raising a family usually want to protect their estates for their children and grandchildren.
Under California law, marriage between two people is considered to be a binding contract between the couple, and with that contract comes certain automatic community property rights for each spouse. Not having a prenuptial agreement in place means shared ownership of property acquired during the marriage, having both parties responsible for debt incurred during the union, and having to pay spousal support in the event of a divorce. A prenup can alter those automatic rules.
To learn more, download our brochure on prenuptial agreements.
Di Maria & Cone has been serving clients soon-to-be-married couples like you in Palo Alto and the San Francisco Bay Area since 1946. Whatever unique family law needs you may have, we will advocate for you during all stages of your case. Discover more about how Di Maria & Cone can provide effective and creative solutions based on your individual legal needs. Please visit our website today to learn more about premarital agreements or call us at (650) 321-4460.