Community & Separate Property Overview
Under California law, property held by a married person is either community property or separate property or a mixture of the two.
Community property is considered to be the property of both spouses, while separate property belongs to just one or the other. This is why familiarity with the law governing community and separate property is important for many reasons—from pre- and post-marital planning and agreements, to rights on dissolution of the marriage and to estate planning.
A spouse claiming a property is separate has the burden of proving that claim, and if the spouse is unable to do so, it will be treated as community property if it was acquired during marriage.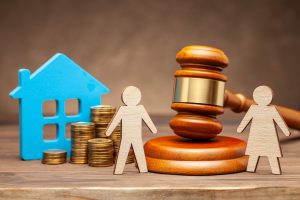 More On Community Property
California law provides that from the date spouses marry until the date they separate or a spouse dies, property either spouse or both spouses acquire is presumed to be community property. Each spouse has an equal interest in the community property and generally each has an equal right to manage and control that property. For this purpose, "during marriage" means from the date of marriage until the date of separation or death. Community property is anything that can be bought, sold, or anything that has value that cannot be shown to be separate property under California law.
This can include but is not limited to:
Wages earned during the marriage
Family home(s)
Home furnishings and accessories
Vehicles
Insurance policies with cash value (i.e. life insurance)
Investments (i.e. stocks, bond, 401 k's) and other retirement benefits
Income from community property
Debt and other legal obligations incurred during marriage
It does not include gifts, inheritances, or assets acquired prior to the marriage or income from those assets. These are referred to as separate property. The fact that one spouse makes much more than the other spouse does not give the high earner any more or different interest in the community property than the low earner spouse.
Dividing Community Property
The court system carries the obligation to define assets and debts as community or separate property, and then dividing said community property equally between the parties. However, each community asset may not be divided equally. The courts may award property of equal value to each party. For example, if one party receives the family home, the other party may receive a cash payment equal to the value of the home or a larger interest in the community share of their retirement plan.  Community debts are also divided.  However, if there are more debts than assets, the court need not divide the debts equally.
However, before relying on the court system, it is wise to consult with an attorney to better understand your rights when dealing with matters of support, custody, and division of property. This is particularly true because divorce is usually an emotional time for all parties, especially when children are involved.
Representing Your Best Property Division Interests in Silicon Valley
Using our detailed knowledge and understanding of property law, we analyze the character of property and determine the best approach to establishing a favorable characterization of the property in settlement negotiations and in court. Where necessary, we will also arrange for appraisal of property. We will also work with you to determine a division of the property in your best interests.
We are experienced with the types of property law issues that arise in Silicon Valley, including those concerning stock options and employment and retirement benefits, intellectual property, and contributions of both community and separate property to acquire a home or investment property. Each case is prepared thoughtfully and thoroughly to ensure we have all the information to prepare for settlement negotiations. If your case cannot be resolved through negotiation, we are ready to aggressively advocate on your behalf in court.
Our goal at Di Maria & Cone is to form a strong relationship with each client. In the casual, comfortable atmosphere of our office, we will sit down with you to fully understand your concerns and offer sound legal advice. We will keep you informed and return phone calls as soon as possible.
Contact our office at (650) 321-4460 to schedule a free phone or in office consultation.
More About Property Division: