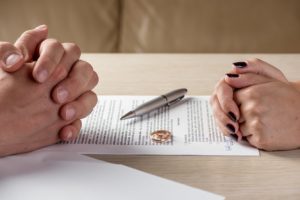 The decision to file for divorce is probably one of the most emotionally draining situations a family can face. Divorce changes the family dynamic, at least on a temporary basis, and ultimately affects the livelihood of all individuals involved.
Due to its sensitive nature, filing for divorce should not be taken lightly. Each party should take steps to have their affairs in order prior to filing. Here are steps to ensure the process runs as smoothly as possible:
Residency Requirement. In California, you must be a resident for a minimum of six months and live in the county for three months in order to file for divorce.
Financial Information. You and your spouse will need to provide proof of income and earnings, a list of individual assets, and outstanding debts. Be prepared to have the following documents ready to submit: financial and investment statements, mortgage and loan documents, W-2 forms, tax returns, vehicle titles, life insurance beneficiaries, and health insurance documents. Additionally, you will be asked to estimate monthly living expenses.
Alimony (Spousal) and/or Child Support. If you need additional funds to support your children and/or yourself during the divorce process, temporary spousal and child support orders may be filed by submitting additional forms.
Select Divorce Procedure. In California, there are two options for divorce: traditional dissolution of marriage and summary dissolution of marriage. In most cases, the traditional dissolution of marriage procedure will need to be used.

To use the summary procedure, the following must be met:

Both parties agree to the divorce
There are no children
Both parties waive the right to spousal support
There is a written agreement for the division of property and debts
Debts are $6000 or less
Community property is valued at less than $41,000
Prepare Paperwork. Parties my obtain the necessary California divorce forms via online, publications at your local library, or court clerk in the county in which you are filing. In addition to the Petition for Dissolution of Marriage form, you will also need to file financial disclosure forms. Forms relating to child custody and support will need to be completing if you have dependent children.
File for Divorce. Paperwork is filed at the clerk's office in which you are a resident. There is a filing fee.
Inform Your Spouse. In California, your spouse must receive notice that you have filed for divorce.

There are three ways this can be done:

Signing the forms showing he/she is aware of the upcoming proceedings
Legally serving your spouse with court papers
Publishing proper legal notice (i.e. ad in the local newspaper) if you cannot locate your spouse

Attend Hearing / Provide Documentation. In a majority of divorce cases, there will be at least one court hearing unless the summary procedure has been used. The judge may also request additional documentation at this time, usually pertaining to alimony or child support. At this time, the judge will also consider factors concerning the payment of spousal support. In California for marriages less than ten years in length, spousal support is limited to half the time of the marriage. For example, if your marriage lasted six years you would receive three years of spousal support. For marriages longer than ten years, the terms may be extended. This is only a guideline and will vary from case to case.
Once all factors are considered and resolved, the judge signs a Judgement of Dissolution of Marriage and the divorce is final.
Judgment. Even though the judge has signed the Judgement of Dissolution of Marriage, there is a six-month waiting period in California before the divorce is officially "final." Both parties will receive a certified copy of the judgment paperwork.
The Family Law Attorneys at Di Maria & Cone has been serving clients in the Palo Alto and San Francisco Bay Area since 1946. Whatever unique family law needs you may have, we will advocate for you during all stages of your case. Please visit our website or call us at (650) 321-4460 today.
Sources
https://www.legalzoom.com/articles/10-steps-to-getting-divorced-in-california
https://www.courts.ca.gov/1035.htm?rdeLocaleAttr=en